Benchtop dot peen marking machines
IMPACT from TECHNIFOR - Benchtop dot peen marking machines
The dot peen marking machines in the IMPACT range are capable of marking all kinds of metal work pieces and plastic. Their compact design will fit easily into your work space.

The dot peen marking machines in the IMPACT range are available in two power source versions: pneumatic or electromagnetic - both areas of expertise for Technifor.
The pneumatic marking machine offers industrial manufacturers high-speed operation and high marking frequency.
If your application calls for precision and consistency, the electromagnetic marking machines are more suitable. The electromagnetic option is particularly efficient for marking DataMatrix codes.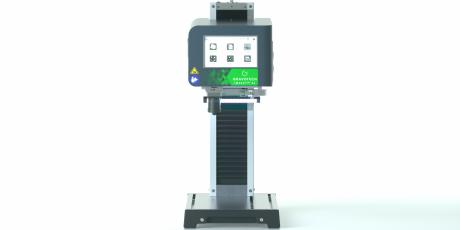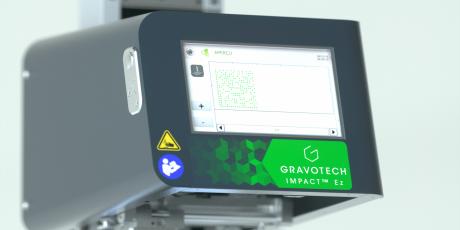 Switch on, touch, mark - the all in one machine
The dot peen marking machines in the IMPACT range are equipped with Touch & Mark technology: they have a touch screen and on-board control software in their marking head. Thanks to their touch screen and the fast and intuitive learning curve offered by its interface, the user can perform marking operations from the moment the machine arrives!
Detect, adjust, mark - motorised Z-axis
The electromagnetic dot peen marking machines with a motorised Z-axis have the I-Sense function. This function detects the surface of the work piece, and automatically adjusts the height of the Z-axis, allowing the performance of multi-level marking operations with no intervention on the part of the operator: mark work pieces of complex shapes with ease!
Several adjustment modes are available:
Automatic mode (I-Sense)
Manual mode: allows manual adjustment by the use of buttons located on the side of the machine
Turbo mode: for even greater speed!
Create, adapt, mark: a perfect result
The new Dynamic Dot Control enables automatic adjustment of dot density according to the desired size and depth. The markings remain legible and of high quality regardless of the application or character height.
On-board T08 software: infinite marking possibilities
The integrated T08 software in the IMPACT marking machines maximises the user experience thanks to its intuitive navigation. The operator can create and edit marking files, store files, merge Excel files, check for duplicates, preview marking jobs and adjust their settings without a computer.
Software functionalities:
Serialisation
Automatic timestamping
Counters
Duplication control
Marking preview
Link to a database (CSV, Excel, Access)
Marking history
For all your marking applications
The IMPACT range makes it possible to perform precise and high-quality marking on a large number of materials:
Plastics: ABS, PA, PP etc.
Metals: steel and painted steel, aluminium, brass, iron, steel, raw and anodised aluminium etc....
The marking possibilities offer by IMPACT range from unit parts up to small and medium series runs. Mark parts up to 300mm (12") in height. Accessories available for larger parts.