Precision Linear Actuators THOMSON
Precision linear actuators are designed to deliver high performance in applications requiring continuous duty operation. They provide the highest thrust and speed of any electric actuator and allow you to design more compact machinery with maximum throughput. Often chosen as a clean and efficient alternative to fluid power solutions, precision linear actuators draw energy only on demand and operate more quietly than pneumatics. To suit your specific application, Thomson offers the longest stroke lengths in the industry, a simple and reliable RediMount™ system to mount your own motor, and product customization options.
PRECISION LINEAR ACTUATOR APPLICATION USES
Form, Fill and Seal Equipment

Food/Beverage Processing
Chemical Processing
Rinsers & Sterilizers

Marking and Printing

Ink Coders, Printers, Labelers
Stampers, Imprinting Equipment
Thermal Transfer Machines

Secondary Packaging

Wrapping & Cartoning
Strapping & Banding
Stacking & Palletizing

Grading

Meat & Poultry Graders
Egg Graders
Fruit & Vegetable Graders

Primary Packaging

Blister, Skin, Vacuum Packagers
Capping, Lidding Machines
Case and Tray Sealers

Conveying, Sorting, Pick/Place

Accumulators & Buffers
Conveyor Sorters, Diverters
Cranes, Gantries, Hoists

Converting & Containers

Blow & Injection Molders
Bottle, Can Manufacturing
Paperboard, Box Folding

Inspection

Torque, Tightness Testers
Seal Checkers
Volume, Weight Sensing

Automated Storage, Retrieval

Case Lifter
Vertical Lift Module
Fixed-Aisle AS/RS
Valve Control
Paper & Pulp
Food/Beverage Processing
HVAC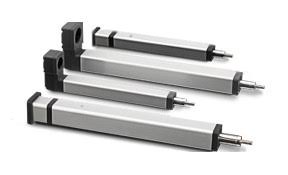 Get perfectly-matched solutions, custom CAD models and more!